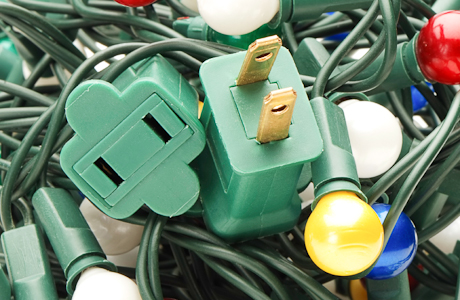 November 25th, 2011 -
As the excitement of Thanksgiving shifts into the excitement of holiday decorating, the Silver Creek Fire Department would like to remind area residents of the electrical safety hazards associated with holiday decorating. Please take a minute to review these helpful holiday tips.
Take time to read the manufacturer's instructions on any electrical items.
Only use lights that have been certified. It will say UL, ETL, or CSA.
When buying lights and decorations to be used outside, make sure that they are certified for outdoor use.
Check each decoration before plugging it into an outlet that, no bare, loose wires or loose connections are exposed. This can cause shocks and fires.
Make sure to unplug your decorations before replacing burnt out bulbs or fuses.
When mounting lights, do not do anything that would damage the cord or its insulation. Damage may occur with stapling or nailing lights or cords.
Only connect three light sets or less together.
Be aware not to overload your extension cords.
Turn off all decorations when leaving home or before going to bed.
Don't use electric lights to decorate metallic tree. Faulty lights can charge the tree with electricity so that it is dangerous to touch.
When unplugging decorations, always use the gripping area provided on the plug.
Don't put the safety of your family or others at risk. Using common sense and these simple guidelines above will help keep your loved ones and others safe this season. Take the extra needed time to have peace of mind, that all precautions for electrical safety have been made. Have a safe and happy Holiday season!